Hello, my name is Nithit Somrithi, or you can call me Bryant. Currently, I am in my third year of EUAS, studying Creative Business and Innovation. I come from Thailand. I spent my whole second year in Belgium, doing Erasmus+ mobility. I studied at Thomas More University. I had opportunities to study at two campuses, which are Thomas More Geel and Thomas More Mechelen.
As Thomas More is the biggest public university, there are many campuses around Belgium. Due to my field of study, I am studying Business management. There were only Geel and Mechelen campuses that taught business subjects related to English. If you plan to stay a whole academic year in Belgium, you will have to start your first semester at the Geel campus and your second semester at the Mechelen campus. On both campuses, you will meet friends from all over the world who are also exchange students, so half of the class is international and the other half is Belgian.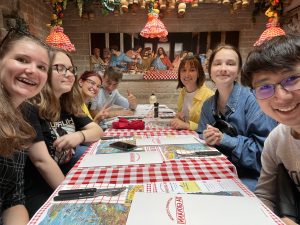 I feel like Belgian students have a mission to give advice to exchange students. You will not be lonely because some random local students will ask if you need help or something. In the group work, lecturers would mix us with local students and divide exchange students equally into every group in order to make us socialize with local students and understand Belgian culture. Thomas More is a very good organization that always helps both international and local students. They have Stuvo as a student services center that will lend a hand with several big or small problems that might occur with students. Their services for instant student housing, bike renting, student sports cards, and other services relate to students living in Belgium. I chose this organization because whenever I have problems, Thomas More and their students will always help me. They have so many activities in which I can participate freely, such as sports tournaments, student parties, and seminars. Thomas More is one of the best in terms of student assistance. I was quite comfortable with my mobility in Belgium.
Moreover, as I mentioned before, I studied on both campuses in Geel and Mechelen. Geel is a small countryside city 45 minutes away from Antwerp by train, while Mechelen is a bigger city located between Antwerp and Brussels. I decided to live in Geel for a year because it is more convenient, has a lower living cost, and is smaller than Mechelen, so many facilities are closer to my apartment, while in Mechelen you might have to ride a bike 3 km to do laundry.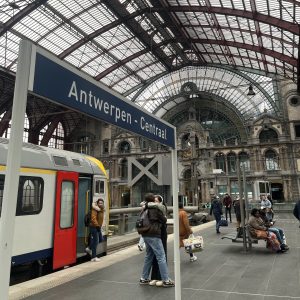 I think the main reason that I participate in the Erasmus+ exchange program is that I want to meet new people from all over the world, live in different environments, and travel during my studies. In my high school years, I used to be an AFS exchange student in Argentina. I love learning new things and absorbing new cultures, foods, languages, and people's traditions. In addition, I chose Belgium because it is in the heart of Europe and is connected to France, Germany, the Netherlands, and Luxembourg, so it is very easy to commute between these countries by train and airplane. Actually, my main reason is that I am a chocolate and waffle lover, and I can confirm that Belgian chocolate and Belgian waffle are incredible. During my exchange program, I met a group of nice people who were also exchange students. We went to France, Germany, and other cities in Belgium like Brussels, Antwerp, Ghent, Bruges, and Dinant together. We usually travel together every weekend to explore new cities. These were my unforgettable memories of my mobility period.
However, I didn't really have difficulty during my mobility, but the most difficult thing seems to be documenting. The city town hall asked me to pay to apply for a visa, which I was not supposed to do because I already have an Estonian resident permit card (TRP). After a few months, they refunded my visa fee.
There are a few things that are different from Estonia and EUAS. Firstly, Belgium is a bigger country, so there are more cities to visit, such as Antwerp, Ghent, Bruges, and Dinant. Every city in Belgium is unique and different from the others. It always makes me amazed by the beauty of their architecture. Belgian people are more social compared to Estonians because they always have space between each other. When the semester started, we had to enroll in our own subjects. There are so many interesting subjects to choose from. The instructions for enrollment were clear. I never have any problems with my study program or the system.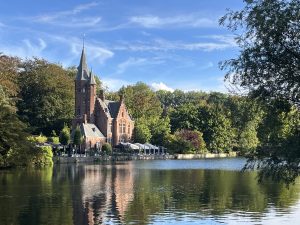 If you are considering whether or not to join Erasmus+, I would like to recommend you come to Belgium. In the first semester in Geel, there is an optional summer school for 3 credits for 100 euros. I suggest you join this course. The best part was that I met so many international friends from Greece, Lithuania, Poland, and Ukraine; we had been together since summer school. The summer school included some amazing trips to Ghent and Antwerp. Without question, this is the best summer school I ever had. It is a good opportunity to meet some good friends and have nice experiences together.
After the whole year in Belgium, I have learned so many things. I have developed my communication skills and group work organization. I have learned new things from my international friends who have different backgrounds and are studying in several fields of study in many countries around Europe. I think we have created a connection and a bond of friendship.
Finally, I think taking part in the Erasmus+ program would benefit me in my future career. Students shouldn't focus only on studying in the classroom; extracurricular activities are also important because they help us be good global citizens. Spending a student life aboard is a good chance for every student. It inspires us to study with passion. "You will never know if you never try". Therefore, enjoy your student life.