I would like to express my sincere gratitude for the opportunity to participate in the Erasmus+ Blended Intensive Program (BIP) at the Romanian American University in Bucharest, Romania. The program, named "APPLIED SCIENCE AND TECHNOLOGY FOR REAL-WORLD APPS (ASTRA) International Summer School," took place from 1st of July to 9th of July.
My name is Sanskar Chaudhary, and I am a bachelor's student in Software Development and Entrepreneurship. I hold Indian nationality, and I am currently pursuing my studies in first year in Estonian Entrepreneurship University of Applied Sciences. During the Erasmus+ mobility period, I had the privilege of studying at the Romanian American University in Bucharest, Romania. The program revolved around the theme of "APPLIED SCIENCE AND TECHNOLOGY FOR REAL-WORLD APPS (ASTRA)" and provided a comprehensive learning experience in the field. I am grateful for the opportunity to have been a part of this program. There were several reasons that motivated me to participate in the Erasmus+ BIP. Firstly, the program offered an excellent platform to acquire fundamental knowledge in a specific field, enabling me to make informed decisions about my future academic and professional endeavors. Additionally, Romania had been on my travel list for quite some time, and this program provided the perfect opportunity to explore the country's rich culture and heritage. Moreover, the chance to network with students from various countries and establish lifelong friendships was an enticing prospect.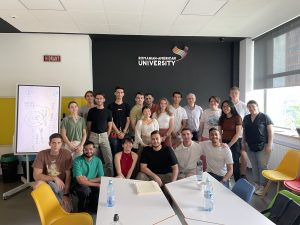 Throughout the mobility period, each day was filled with enriching experiences. Besides attending classes, we embarked on exciting trips, and I also had some free time to explore the city. Upon arrival, I took the opportunity to visit the Mall of Bucharest for currency exchange and familiarize myself with the local surroundings. Our schedule included a Bucharest Walking Tour by Night, visits to the Village Museum and Herăstrău Park, as well as engaging academic sessions and cultural activities. During our free time, my fellow Erasmus+ participants and I ventured out to discover new places, such as parks, clubs, and even visited the cities of Constanta and Therme Waterpark.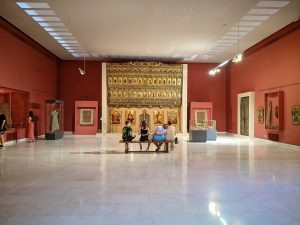 Among the countless memorable moments, one particular experience stands out vividly in my mind. It was when I embarked on a road trip to Constanta with three newfound friends from the program. Although we had only known each other for a few days, our bond grew remarkably strong. The road trip was filled with laughter, games, and dancing to songs from our respective countries. The adventure, the swim at the beaches, and the camaraderie we shared during that day are memories that will stay with me forever.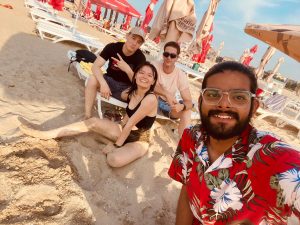 Without a doubt, I wholeheartedly recommend the Erasmus+ Blended Intensive Program to other students. The program not only offers educational opportunities but also provides a transformative experience on multiple levels. The chance to immerse oneself in different cultures, build international networks, and create lasting memories is invaluable. The Erasmus+ BIP broadens horizons, enhances personal growth, and nurtures a global perspective. Participating in this Erasmus+ BIP has provided me with a multitude of benefits and valuable learning outcomes. Firstly, I have gained a diverse group of friends from various countries, including Uzbekistan, Cyprus, Kyrgyzstan, Latvia, Poland, Russia, and Ukraine, among others. Interacting with them has expanded my understanding of different cultures and perspectives. Additionally, being part of a program focused on AI has given me insights into the field and the potential it holds for my future studies and career.