We are four students studying at EUAS – Fangru He, Reika Yonetsu, Ka Chai Yan and Natasha Ayiti Kportufe and thanks to the Erasmus+ program and EUAS we had an amazing opportunity to visit Istanbul in Turkey and take part of Delightful Summer School Program. The program was organized by the Istanbul Aydin University between 22nd July – 5th August 2023. The Summer School offered lots of different courses and we decided to participate in the Integrated Marketing Communications course.
The reasons that made us want to participate in an Erasmus+ Short-Term Blended Program and take part in Delightful Summer School in Istanbul were to get an opportunity to study in another country, gain international experience, make new friends, and improve language skills. We wanted to learn about a different culture as well as to learn practical course content. In addition, the program took place during our Summer vacation time, so it was a perfect time to match our vacation with the studies.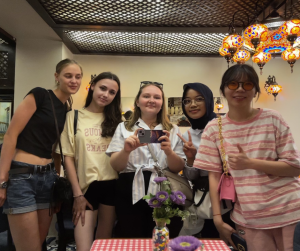 During the days of the mobility, we engaged in various activities. We attended the classes to expand our knowledge, embarked on trips to explore new places, and enjoyed free time for relaxation and personal pursuits. Even though we had a tight schedule – classes running from Monday-Friday, then every day after 3pm we were able to join a tour organized by the school or to go out on our own. On weekends, the school arranged yacht parties and museum visits. Although we were in Turkey for a short period of time, we were able to fully experience the life in Istanbul. We were able to learn about the Turkish culture, as well as the direction of marketing, which is a more in-depth study.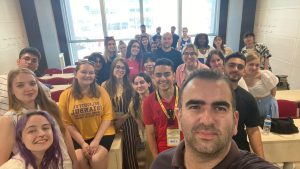 The most unforgettable memory that we had was a leisure cruising along the Bosphorus Strait. We were able to enjoy the panoramic views of the city's skyline and historic landmark like the Maiden's Tower. However, we also really liked the visit to one of the businesses in Istanbul for learning. It offered a great opportunity to learn a lot of different ways of thinking and have in-depth conversations with many tutors who were working there. We would recommend everyone to take part of the Erasmus+ Short-Term mobilities. Looking back, it was really very good and fulfilling. It offered a chance to gain international experience, cultural exposure, and expand academic horizons by studying and interacting with people. We learned a lot and gained a lot of knowledge and friends. Every day was like a new adventure, and it was really, really fun!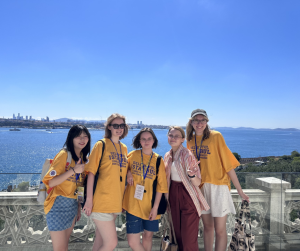 This experience acquired our academic and interpersonal skills and improved our communication skills. The marketing course was also very interesting, and we learned a lot of interesting new aspects of marketing. We also made a lot of different friends from different countries, which helped us to also improve our English. Thanks to the opportunities that Erasmus+ offers, this experience made us even more determined to visit other countries in the future.